This day was awesome for someone like me with a rather dull life. I planned on going to a Nightwish and Sonata Arctica concert in Montréal since weeks ago. You must know that I'm a true Sonata Arctica fangirl to understand that I spent days on a poster sort of thing for them to - luckily - autograph. I'm really glad Ingvild encouraged me so much. So let's begin with the story. I'll divide it into "getting there", "the concert itself" and "coming back"
I headed to the bus terminal at 1. I got repeteadly times lost getting there, but as I went there last Friday to buy the tickets I knew the route. But unlucky me, didn't take in mind Labour day was a holiday and thus bus routes change. So what happened is that I was waiting for a bus that never came. So I went to downtown and from there I walked to the other bus that took me station. You can't understand how much I walked. I spent 2 hours getting there. Bad start. My feet already ache. When I came it was 3:15, but I was lucky a bus was departing to Montréal at 4. So I thought "OK, I'm early. Gotta eat something". So I bought the most expensive and horrible sandwich in my whole life. When I finished the line was so long! I didn't even think I was gonna make it. But I did. In the road I put my MP3 player and listened to songs I liked from both bands, and incredibly enough, the trip was really short.
The concert started at 8, and the doors opened at 6:30. I had no clue what time it was when I arrived to Montréal, but my guess is around 6. So I was hoping for another huge line. With my printed google map I looked like a tourist finding the place. I got kind lost at some point since the streets were different than the map, but when I spotted a line of "Cat Eaters" (that's the term we use in Venezuela to debscribe people wearing band Tshirts, long hair, boots... You gave the picture) I folded the map and knew I found the place. It was HUGE! I was like "Why so many people here?! D :". I looked so "normal" I wanted to die. And everyone speaking French. One of the guys wanted to joke with me and I was like "???". So obviously they stopped talking to me.
So the doors opened and I entered. I was alone and it was the worse part of the whole thing. I bought the most expensive water in my whole life (what's with buying expensive stuff anyway?). 3 bucks! Three fucking bucks the water! Anyway, all the good spots well taken, of course. I would prefer the balcony but anyway. It was not a bad spot, I just wished I'd be taller and I weren't surrounded by so many retards. Waiting was a torture. But when the lights turned off I could feel the emotion.
I could not believe I saw my favourite band live ;_; I so wanted to cry. Tony (the singer) was so cute! And did so many weird things! The first song was from their last album Unia, which I'm not very fan of so I was kind of lost. But as they kept going with the old classic songs I could not hold myself and sung with all my lung. They even performed for first time my favourite song ever, "White Pearl, Black Oceans". I recorded the very last part, my favourite!!! Other songs they played were The Cage, Don't say a Word (OMG, so cool!), Faith, Paid in Full (T_T), and decided to play one more song at the end, which was a known one but I can't remember right now which one was xD It was a shame they were on stage for just 45 minutes!!! Because Nightwish was next, heh.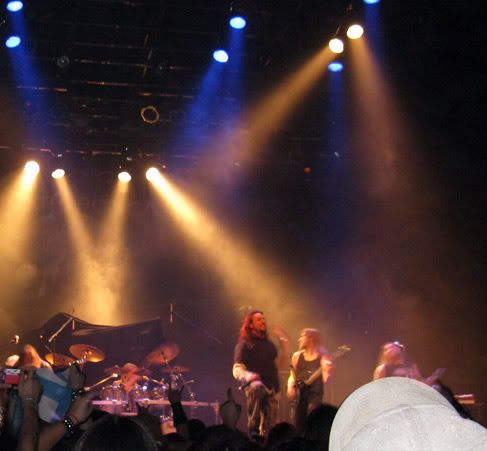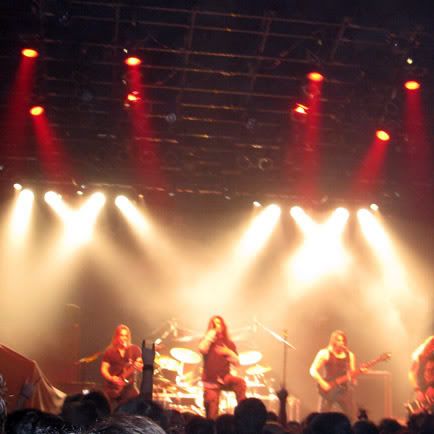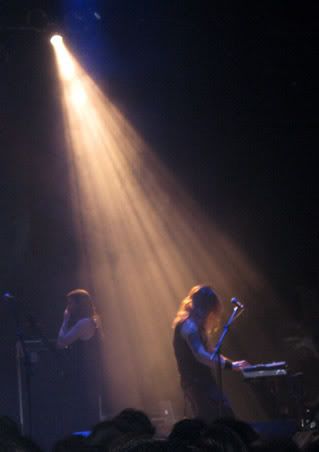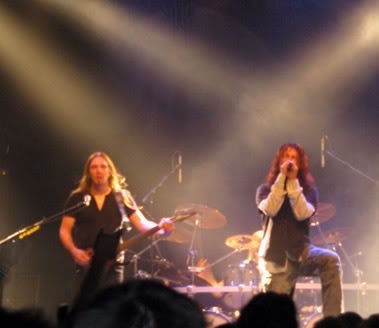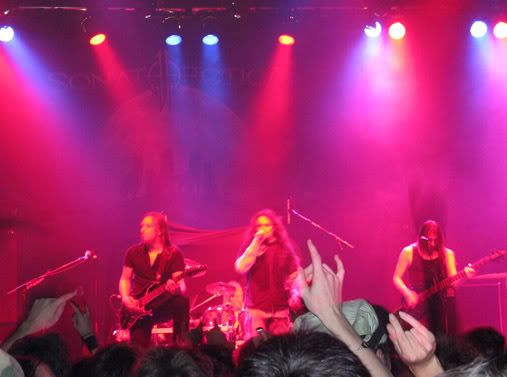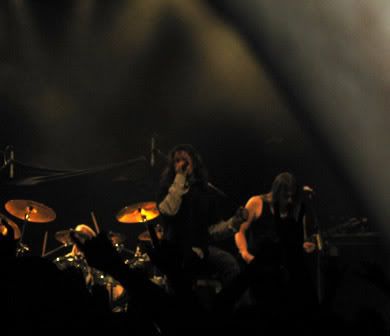 Those are the best pictures. The other ones... X__x Then a break came and Nightwish started. People went MAD! They really love Nightwish, even with Anette as the new singer. To tell the truth, I did not set my hopes too high with Nightwish, but hey. Maybe Anette doesn't have the greatest voice, or I'm just too used to Tarja. But damn, the woman got charisma. The first two songs were again from their new album which I dun love so I was lost again. But the old songs started to be played and I sung again. God, I'm still aphonic. The ones I remember the most are Come Cover me, Wishmaster (OMG, so good), Ever dream, Chest of Wonders, Nemo, and finished with I wish I had an Angel, with Marco's super voice *0* People went nuts, really.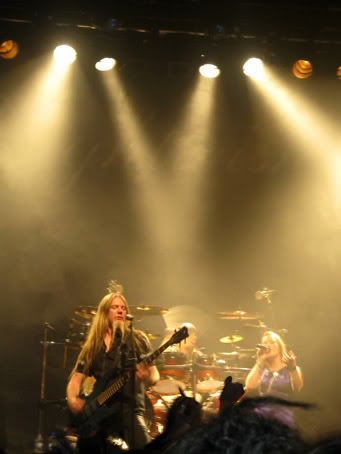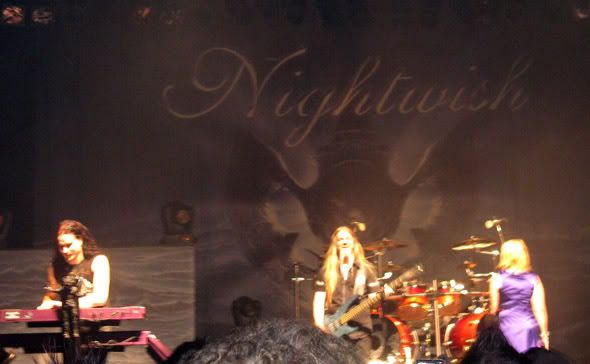 I know they're few pictures, because I recorded instead of taking photos. And again, most of the photos are crap. As you can notice, I wasn't that far. But all the guys stepping on me and pushing me were way too annoying. Guess that's how concerts are anyway. I was so tired at the end, all that previous walking and jumping and rocking and stuff... And half deaf and aphonic... I just wanted Nightwish to perform their last song to go home.
Oh btw, a guy behind me started to chat in the intermission and like... Wanted something with me X_x but I'm really good at avoiding people. Still I got him to buy me another bottle of water *0*. When the concert finished, I went out near the trailers xD The guy went home and I kept on waiting. I must say there were two identical trailers. I thought one was for Sonata and the other one for Nightwish. There were few fans waiting as well. I dunno how long I waited until the first guy, Toumas came out of the trailer and many fans gathered around. He was not just my thing, he looks like a ... Metal version of Johny Depp X__x So yeah, I passed. Then Emppu came out. Same thing. I didn't want to aboard the poor guy, he got enough fans already. But when Marco shoed up, OMFG! I could not stop myself. And he was the nicest of the guys! He stood quite a while out there, letting being taken pictures with, signing autographs and even chatting! Woa, he looked so nice, really. And I had this picture, which I seriously don't like because I think we both look ugly xD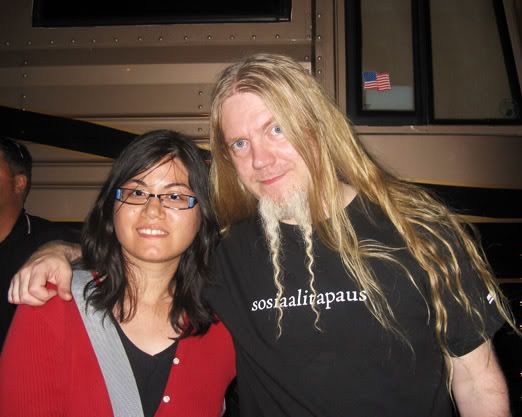 But anyway, he's Marco and the drinks and smokes and gives chicks kisses on the cheek. He rulz. It was being too late and I asked one stupid security man if he could at least give the poster to the sonata guys, and he said "no, I can't go inside and give it to them" and I was like "why not?" and he said "I can't" with his ass face X__x so I asked "and who can?", "I dunno". "Can you at least tell me if they're going out?", "Maybe", "Fine, I'll awit". Idiot. Thanks to him I was seriously loosing hope. But I decided to wait as there were still some people jumping on Marco. But then someone spotted Elias (guitar player) and I was like "OMG, it's now or never". He was heading to his "Trailer". No, it was not the twin nice trailer behind the Nightwish one. He was heading to an ugly small Van I just didn't look at! Why can't the Sonata guys have a nice trailer like the Nightwish guys had? ;_; OK Anyway, like 4 people surrounded Elias and I waited until the end, so he could dedicate some time to me. And seriously, he is... Way too nice. o.o This I will never forget. I gave the guy the two copies, I said "one for you to keep and the other one for you to sign". And the guy started at it, and was all... I can't forget his face. He said "that's nice" still admiring it, and I was looking for a pen inside my bag X__x "That is really nice" he repeated "how did you do it?" and I like the geek fangirl I am explained how and told him it took several days. I finally found the pen and handed it to him. And didn't work X__x still the guy wanted it to make it work and I was like "OK I have another one" so while I was looking at the bottom of my bag for it he said "How long did it take again?", "Several days, I didn't sleep yesterday!" I don't even know why I said that. So finally I found a working pen, and gave it to him, and he was like "If I sign on the black it won't show?" OMG, he didn't want to ruin MY copy! I was like "you can sign on the blue spots!" and he was seriously thinking it! And after a while I convinced him to do so. I can't believe how... He behaved o.o And yes, it's just a signature from just one member, but that was more than enough!!! And of course, the proofs!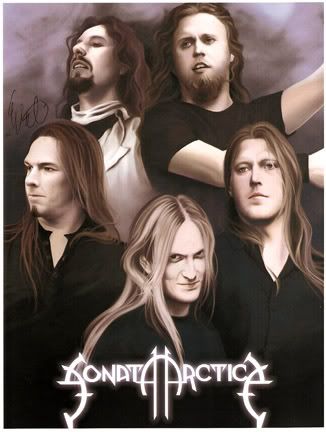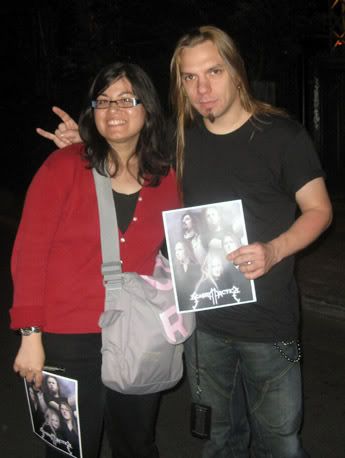 What do you think? Do I look happy? xD So yes, I got the picture taken, thanked him very much and wished him a good night and the guy headed to his fugly van X__x I was so happy I just thought my work was done. So I headed back to the bus terminal. Which another small story begins.
I thought I could find a bus back at 2 am or something. How wrong I was. The next bus heading to Ottawa departed at 5:30 am! So I had to try to sleep at the terminal. But then I saw this girl talking in spanish while screaming she got a picture with Touma X__x Anyway, she spoke Spanish so I decided to talk to her. I knew she was from Argentina because of her accent. And surprisingly enough, we became friends in an instant! Such a nice person, and we have so many things in common. She was really sweet. And she gave me an orange! (I was starving). Her name is Belén. But more surprisingly enough, beside us an old lady, 75 years old as she told us, sitted beside us. And she was so funny, she kept us awake telling us stories that made us giggle. She was from Mexico. So there you are, three women from three different latin american countries ina a bus station in Montréal very early in the morning. I exchanged mails with Belén. I surely have someone to go with next time! So when it was 5:15 am we noticed there was a huge line for Ottawa X__x So yes, I lost the bus. So I took the next one, departing at 6. I was so damn wasted. I had body ache, and was aphonic (still am). I could not sleep in the bus. It was so, so uncomfortable. So I came around 9, took a well deserved shower and tried to sleep. Of course, the phone rang twice and someone rang the bell and the cat stepped on me three times. But I'm fine, really.
This was a lifetime experience =)